I love fall.  Even here in Alpine where the season is not marked with a gorgeous changing of color, but where the lack of color is compensated for by a lack, also, of the impending doom at an approaching long cold winter.  Maybe my love of fall plays a role in my tendency to use the nickname Punkin' with my loved ones, husband and daughters alike.
     My oldest daughter, Jaime Punkin', is visiting us this week, the week before Halloween. Because she and her boyfriend, Jason, are here, I have had the glorious opportunity to cook gluten free vegetarian dishes for an audience. Invigorated by the season, I have turned my attention to all things fall: pumpkin pie, roasted pumpkin seeds, butternut squash soup, spaghetti squash casserole . . .
Me and my "Punkins"
     Punkin' is a somewhat diminutive nickname, which when used on my oldest daughter belies the fact that she is now 24 years old and visiting because of the chance to take a highly intensive First Responder's Wilderness course aimed at people who may eventually become part of Search and Rescue teams.  My Jaime Punkin', these days, is not a child being tucked into bed, but an avid mountaineer. In reality, I am the diminutive one, responding to her itinerary notifications about where she is going on the next snow covered alpine rock climbing adventure, with a plaintive "Okay, Punkin'. Have fun. Be safe."
     Anyway, while they are here, everyday I anticipate the joy of thinking up and making dinner for them. One day, Jay says "Hey, why don't you make Papadzules!" Papadzules? I think scanning my memory. Why, that's perfect! Papadzules are a traditional Mayan dish from the Yucatan. They are essentially vegetarian enchiladas made with corn tortillas, hardboiled eggs and a pumpkin seed and tomato sauce—which easily fill all my requirements for the week:  a food honoring the season and the restricted diets of my Punkins.  Plus—they can't help but remind me of some of my favorite memories and stories, for we first discovered these on our honeymoon.
     So settle in and let me regale you with a tale from my past. I'll start by cluing you in: the only "Punkin'" in my life at this time, was my newlywed husband, Jay. I was 23 years old and we were on our honeymoon. We had planned two weeks away: one week scuba diving off Cozumel and one week driving around visiting the Mayan ruins of the Yucatan.  We were in the midst of driving around the bottom of Mexico near the Belize border where this story takes place.
     It was a dark and stormy night . . .
     No, really, it was.
     The wind was howling, and a tropical rain, common in that part of the world, was pelting us. Contrary to popular common sense, we were driving at night. More time to play and explore during the day, we reasoned. Still, I wasn't sure it was such a great idea as I sat perched on my seat peering into the darkness waiting for whatever might suddenly appear:  a stray cow, a notorious "topes" (speed bump) found in the middle of nowhere along the highways of the Yucatan, or perhaps, even, an angry spirit from Xibalba.
     "Jay," I said "Maybe we should stop somewhere."
     "Where would we stop?" he said. "There's nothing here! We are in the middle of nowhere! I don't know how long it is back to civilization. No, we have to keep going."
     He paused, then offered, "How about I tell you a story to keep you entertained?"
     "Yes!" I said brightening.
     "You up for a scary story?" he asked with more than a small amount of mischief in his voice.
     "Um, okay." I said jerking involuntarily as a bit of foliage swept past our rain- splattered windshield, startling me.
"How about I tell you the story of the Texas Chain Saw Massacre? Have you ever seen that movie or read that book?"
     "No," I said gulping. "I don't know anything about it. Sounds scary."
     "Oh it is," he said teasing me. "Based on a true story too, or at least on a real guy."
     He went on before I could object too much.
     "So there are these five young people who are driving on a back country somewhere off the beaten track."
     I chuckle, "Kind of like us, huh?"
     He smiles. "Yep."
     "So anyway, along the way they pick up a hitchhiker, who turns out to be super creepy and starts slashing at them with a large knife before they manage to throw him out of the vehicle, " Jay starts.
     "Creepy," I say as I remember the old Mexican guy we offered a ride to the other day . . . we pick up hitchhikers sometimes, I think.
     "Well, shortly afterwards, they realize they are running out of gas and . . . "
     "Hey, how much gas do we have?" I interrupt.
     Jay smiles, "Oh we've got a quarter tank or so. Should be enough to get us to the next gas station . . . "
     Should be?
     "Anyway, it turns out the gas station is out of gas but they can make it to an old homestead. There are two couples in the group and one guy in a wheelchair. The two couples in the group think it's pretty cool to explore the abandoned house and nearby woods; One couple takes off to look for a swimming hole."
     I think of my own love of exploring abandoned ruins and think—yep, that'd probably be me.
     "On the way to the swimming hole, the guy hears a noise like a generator and thinks maybe he can barter for some gas. They go up to a house and find a tooth on the porch.  He scares his girlfriend with it."
     "Yeah, just like you would do," I say.
     "They hear some weird noises inside and the guy decides to go inside to check but he tells his girlfriend to wait outside,"
     "Seriously?" I cry "Don't ever do that to me, okay?"
     "Well the guy goes in and is attacked by a crazy guy wearing a mask made of human skins who smashes his head in with a sledgehammer."
      I am still mentally the girl on the porch waiting for her boyfriend to come out. "What? He dies? Already?"
     "Yeah, and his girlfriend starts to get nervous waiting for him, so she goes into the house to look for him."
     "No way—too creepy," I say, but I wonder what I would have done if Jay didn't come out.
     The road curves and winds now and there is still no sign of anyone else. No other cars, no other signs of life. My god I hope we don't get stuck out here I think.
     "So the girl goes in and stumbles into a room filled with human and animal bones . . skulls hang from the ceiling and the floor is covered with bones and feathers."
     My heart starts beating as wildly as the rain as I imagine myself to be the girl going into the house.
     "She backs up hurriedly and starts to throw up . . . when suddenly Leatherface—the guy in the human skin mask—comes out of nowhere and grabs her, kicking and screaming back into the house."
     "Oh my god," I cry.
     "She gets away, and for a second you think she is going to be okay but . . . "
     Jay pauses, checking my reaction.
     "So, I prompt, what happens next?"
     "Well, he catches up to her and picks her up kicking and screaming again."
     "Does she escape?" I ask still picturing myself as the protagonist girl.
     "Well, it's pretty gross and scary, actually."
     "Okay . . . go on . . . "I say tentatively trying to mentally prepare myself for the next scene.
     "Well he takes her into this room that is actually a frozen meat locker"
     My mind travels to my storehouse of memories and I think to myself that's where they hang cow carcasses, right?
     "So . . ." he says, "he picks her up and hangs her on a meat hook right through her back , but it doesn't kill her . . . as she is hanging there he takes up a chainsaw and dismembers the dead body of her boyfriend."
     "Jay! Stop, stop! Oh my god, that is so gross. Now I am totally freaked out."
     "Awww," he says. "It's only a story."
     "I'm scared!" I cry.
     He says the universal magic words: "It's okay. Come here, snuggle up with me."
     I move to the left and he wraps his right arm around me and I try to relax keeping one eye on the road unwilling to leave his arm, but wondering if he can drive okay with only one hand on the wheel.
     "There," he says. "Look! A sign to the next town.  Look it up in our guidebook. Maybe there is a hotel we can stay at."
     I breathe a sigh of relief.  "Hey," I offer. "How about instead of some creepy story about Chainsaw massacring serial killers, I read you from the guide book about this area?"
     "Sure," he allows.  "That'd be great."
     I open up our trusted Lonely Planet guidebook and dive into a safer subject:  Food.
     I read about how the peninsula's unique cuisine derived its own character because of the Yucatan's long-time isolation from the rest of Mexico. I read that the food is divine, and that sinking your teeth into Yucatecan favorites is one of the highlights of traveling the peninsula.  Take that stupid Chainsaw massacre story . . .
     I decide we have to try one of the classics, Papdzules, which I learn are diced hard-boiled eggs wrapped in corn tortillas and topped with pumpkin seed and tomato sauces. The guidebook recommended a restaurant specializing in them. The name of the restaurant and town are long gone, but the memory of that incredible meal remains.
     The next day, having found a place to stay that night and having recovered from my new husband's tale telling, we set out to try Papadzules. Sitting in a dark tiny little restaurant in the middle of nowhere at a table with a plastic red gingham tablecloth and on simple metal chairs—no crazy chainsaw serial killers in site—we dove into this unique and delightful traditional Mayan specialty. What an unexpected treat!
     So, in honor of Halloween week, when it is okay to talk of ghoulish things, but more importantly in honor of two of my Punkins, I offer to you all a recipe fit for fall: hard-boiled egg enchiladas in a pumpkin seed sauce.
     I understand from Wikipedia that the word "Papadzules" either derives from a phrase meaning "food of the lords" or "drenched".  Here is my recipe, then, which I think is both fit for lords and drenched . . . in love:
Papdzules
Print recipe
Egg enchiladas smothered in pumpkin seed sauce
Ingredients
4 cups chicken or vegetable broth (or use water)
2 cups raw green hulled pumpkin seeds
1 bunch epazote (when I don't have this, I leave it out)
2 tablespoons chopped onion (I always use sweet onions)
1 garlic clove (minced)
1 cup chopped onion
splash cooking oil
8 hard-boiled eggs
1 - 2 serrano chilies (use as many as you like)
1 1/2lb tomatoes, quartered
3 tablespoons oil (I use olive oil or coconut oil)
1/2 cup water
1/2 cup chopped onion
1 garlic clove
1 teaspoon apple cider vinegar
Directions
Tomato Sauce
1.
Toss tomatoes with 1 Tablespoon oil and broil for 15 to 20 minutes
2.
Blend tomatoes, water, onion, garlic, vinegar, chiles and salt in blender
3.
Heat remaining oil in saucepan and cook sauce for about 10 minutes
Pumpkin Seed Sauce
4.
Toast pumpkin seeds in a dry skillet over medium heat until seeds have expanded but not browned; cool
5.
Coarsely chop 1/4 cup pumpkin seeds and set aside. Bring water, epazote, onion, garlic and 1 1/4 teaspoons salt to a boil
6.
Blend this mixture with remaining 1 3/4 cups pumpkin seeds in 2 batches until smooth
7.
Transfer to a saucepan. Season with salt.
Filling
8.
Saute onions
9.
Mix onions with hard-boiled eggs and hot peppers
Fry and Fill Tortillas
10.
Heat oil in skillet and soften tortillas on both sides
11.
Dip in pumpkin seed sauce (as if it was enchilada sauce)
12.
Fill tortillas with egg mixture; roll up and place in a casserole baking dish. (Note: I usually add some sauce to the casserole pan under each as well.
13.
Cover wrapped tortillas in any remaining sauce and then add tomato sauce on top (Note: alternatively you can serve the tomato sauce on the side)
14.
Bake for about 20 minutes at 350 degrees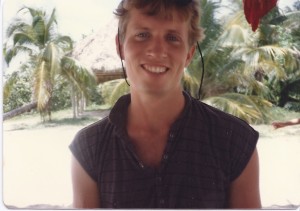 The Punkin who started it all